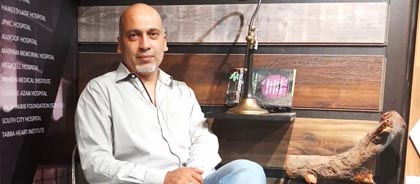 Biography
Shoaib Malik
Fourth in the generation of building design and construction, Shoaib justifies the precision in contemporary urban architecture. Following the footsteps of his fore-fathers, he is creating a hall-mark in history with innovation, artistic/ value for money/genuine/sustainable. Shoaib is particularly known as Architecture maestro, who plays with dimensions and angles with innovation and grace, his major work is visible on ground, the art, elegance and design signifies his passion and professionalism.
Shoaib was born in 1972 in Peshawar, to a renowned civil engineer, Gulzar Malik, who was named as "Father of construction" (Baba e Tameeraat) few of his buildings namely Frontier Children's Academy Hayatabad (FCA), Multi-purpose halls and Laboratories Islamia Collage and Collage of Home-Economics, University of Peshawar, Tirchmir View Hotel and Sayurj Public School Chitral, have been declared as land-marks in KPK, he remained attached to Khyber teaching hospital, Peshawar for 24 years starting from the ground breaking to its completion, which is yet another hall-mark.
He got his private company Malik & Malik-Associates registered in 1974, which offered services in consultation in multifarious fields of building construction, master planning and . Quite a number of high raise buildings including schools, hotels, hospitals, commercial plazas, residences, Churches, Mosques, and much more adds to his reputation.
His grandfather Engineer Noor Muhammad, got his Civil engineering degree from Thomson Collage of Engineering, Roorkee (Uttarkhand) India in 1946, he was the first Muslim ever to graduate from that prestigious institute https://en.wikipedia.org/wiki/Indian_Institute_of_Technology_Roorkee, later joined British army as a civil engineer and retired as Col. from Pakistan army in 1972.
Engineer Hajji Allah Din, Great grand-father, also served as a civil engineer with British army, during his tenure he designed several mega projects including libraries, museums, bridges and monuments few are still standing with glory in India, Bangladesh and in Pakistan, among them a few still stand with pride and grandeur opens up a window to peep through the history.
Guides Memorial; was designed and supervised by Engr, Haji Allah Din, built in 1892 in Mardan by the British Army, in the memory of their soldiers who sacrificed their lives in defense of the residency in Kabul on September 3rd 1879. It stands in the centre of Mardan city.
Victoria Memorial Hall, the Peshawar Museum building was completed in 1907 as "Victoria memorial Hall," in memory of Queen Victoria. The two-story building was built with a blend of Raj era and Islamic influence in building designs.
Shoaib studied Architecture from Kharkov State Technical University of Construction, Architecture, he did his degree with distinction; with a major in high rise/ Multi story buildings majorly commercial and hospitality, his faculty described him as the most outstanding and innovative student with a spectacular vision, who is also cultural sensitive with the broader perspective about contemporary design, Interior designing and green architecture.
Shoaib transmits his signature in few of the significant projects on ground:
Hospitality:
Faletti's Hotel
Pearl Continental Hotel, Faisalabad
Hayat's Regency Lahore
Commercial:
DFID head office
ADB (Pakistan Resident Mission)
Foreign Mission:
Kuwait Embassy Pakistan
Belgium Embassy Pakistan
Multi/Group of Companies:
Emaar Pakistan Group
World Trade Center Rawalpindi
Al-Ghurair GIGA Residential Complex and Shopping Mall
Pace Lahore
Bahria Town (Bahria Enclave)
ISTIL Group (Pakistan & Ukraine)
Al- Fatah Shopping Mall Lahore
Telenor Pakistan
Habib Bank.